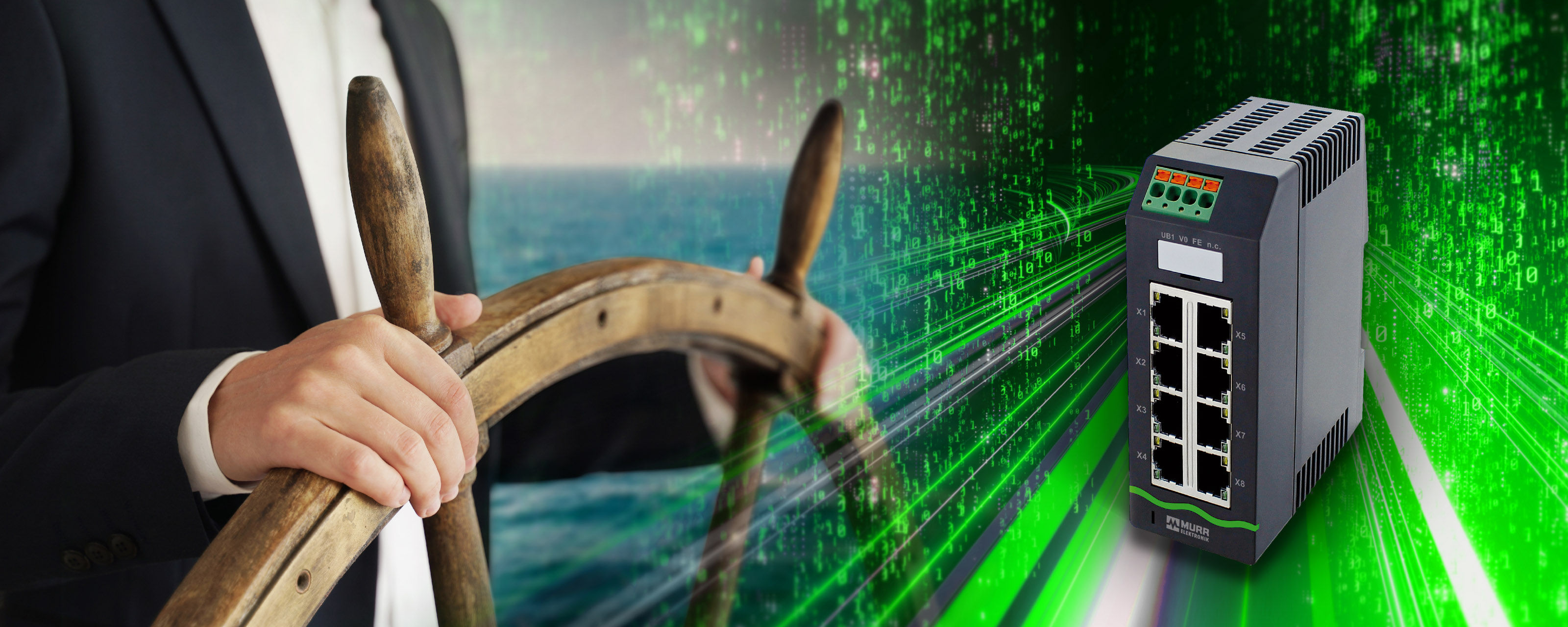 Industrial communication networks are the backbone of digitization
Machine and system communications are rapidly increasing. Networks act as a lifeline for data streams. To guarantee successful digitization you have to have powerful and reliable network technology. You need to ask if the communication network is strong enough to handle the increase in flexible applications and find out what the prerequisites are to reliably network a combination of classic and/or digital devices. Finally, you need to know if the application is ready for future advances in data communication.
The design, planning and implementation of industrial communication networks requires an in-depth knowledge of automation technology and takes into consideration the main requirements for networking data – reliability, openness and flexibility.
Murrelektronik knows it is not only the ability to provide components, which range from basic switches all the way up to the latest in POE technology and the cables to connect them, that matters but also the ability provide support and tips to help our partners optimize data flow while reducing their wiring efforts.
Sharing knowledge, presenting options (including their pros and cons) and explaining the "point of use" for the components allows you to see industrial networks as a whole and highlights the added value of the chosen solution.
System Networking vs. Required Networking
Today's production facilities have to be flexible and easy to change. As a result, the design of the network topology is key to ensuring the data-related functional reliability of the machines and systems and to make sure it is in line with current requirements. It is also important to check the concept for redundant connections through continuous segmentation and unrestricted access to the higher-level networks.
In addition to being open and flexible, Industrial networks have to be designed to match the application. Individual factors selected by the end users like digital sustainability and enhanced diagnostics determine the right network topology.
Switches are the captain of your network
Intelligent infrastructure components – switches for short – read incoming data and forward it to the appropriate device. Network performance is dependent on switch performance. The choice between unmanaged or managed switches comes down to need and device function.
Unmanaged switches offer extensive options when it comes to port and device configuration. They perform important functions for error analysis, network diagnosis and redundancy mechanisms. Switches optimize data transmission, facilitate installation and reduce overall costs – using them in a network topology offers options that can be optimized according to purpose.
Managed switches, on the other hand, offer extensive possibilities in port and device configuration. They assume important functions for error analysis, network diagnosis and redundancy mechanisms. These switches optimize data transmission but increase the configuration effort and thus the overall costs. However, their use in a network offers advantages that provide more control including when remote access is required.
All eyes on industrial networks!
The six scenarios below show HOW and WHERE the right switches can enhance an industrial network. In these examples, Murrelektronik shows how managing data traffic with switches offers opportunities to use the right technology to find the right solution, at the right price.
By looking at factors such as decentralization and by using a complete system approach, for which Murrelektronik offers individualized options, a company's knowledge of machine connections can grow along with their network efficiency. Optimize your industrial networks – with customized installation technology!
Case 1: Topology Check and Opitmized Data Flow

Before
The starting point are switches in the cabinet, whose lines go into the field (several run 50m) and often lead to the same place. In decentralized control cabinets, this leads to enormous space problems and a confusing variety of cables.
or
By positioning another switch in a second, decentralized control cabinet, the installation can be much simpler and more transparent.
After
A decentralized switch is the field captain with one line running from the cabinet, that is then followed by a star topology in the field.
or
Substituting an IP67 switch for the second switch.
Benefit
Lower cost since you are using fewer cables and transferring the control cabinet to the field, reduced installation time, space saving, easier to troubleshoot (in the case of cable breakage between control cabinet and module), weight saving.
Application
Logistics centers, production lines (automotive), wide range of robot applications, presses, paint shops, crane systems, food & beverage, automated guided vehicles
Conclusion
More modern machine/system installation with simpler cable runs and cost optimization.
Case 2: Change Profibus to ProfiNET

Before
Using classic Profibus technology comes with disadvantage that Profibus is no longer fully supported and that it only works in a line topology. In addition, the use of long fieldbus cables can cause extensive troubleshooting within the bus network. Further disadvantages include required terminating resistors (which can be a frequent error source), a lack of integrated IT services and rigid DIP switch addressing.
After
ProfiNet is an open topology that supports different arrangements (star/tree/etc.). ProfiNet is based on an Industrial Ethernet standard for data transmission and not only enables connection of the field level but also guarantees a combination with industrial IT functions. No terminating resistor required.
In addition, ProfiNet shortens installation and downtimes through automatic topology management. ProfiNet devices are "plug and play". They can be easily installed or replaced in the topology and are automatically programmed by the controller – no configuration required.
Benefit
Highly flexible system structure, openness of the forward looking ProfiNET standard, high data rate, extended diagnostics, TSN perspective.
Applications
Any industry using Profibus; robots with tool changers, automotive transfer lines, mechanical engineering, machine tools.
Conclusion
Smart networks use the state of the art ProfiNet protocol for configuration, maintenance and troubleshooting. Older ProfiBus systems are outdated and are no longer supported or updated.
Case 3: Moving from unmanaged to managed switches

Before
Unmanaged switches are installed to ensure a quick and easy start-up. This configuration requires no programming but does not allow for customization.
After
Moving to Managed Switches offers switch configuration with more functions and diagnostic capabilities. Managed switches act as conductors/guides for the data traffic and make it possible to use configuration tools like TIA Portal. Managed Switches have remote maintenance capabilities and can be automatically configured in the topology by the controller.
Benefit
System information allows for analysis and functional expansion while remote maintenance opens up new service potentials. Managed switches can also be diagnostic aids. The system is not overloaded with too many unmanaged switches. Configurations can be easily copied and implemented on other managed switches. With ProfiNet managed switches, addressing and configuration are automatically taken over by the controller during start up – ProfiNet managed switches do not require direct/on-site configuration so installation costs are lower.
Applications
Machine tool construction, mechanical engineering, transfer lines, mobile machines, robot applications, F&B... including features such as remote maintenance of machines, condition monitoring, predictive maintenance
Conclusion
While managed switches come with a higher investment cost, they allow an Industrial Ethernet network to work optimally with smooth data traffic. Application data ensures diagnostics. Planned topology analysis, scheduled remote maintenance and built in troubleshooting features save time and money, especially in the event of unplanned downtimes.
Case 4: Retrofit/Extension

Before
The modernization/retooling of a machine brings challenges including additional components and ports.
After
Appropriate system analysis ensures optimum networking of existing machines with new components. Redundancies can be added in and the connection process standardized to make machine setup easier.
Benefit
Machines are appropriately updated to ensure data needs match customer expectations and budgets. This can include a (re)ordering of the installation technology and both cost-benefit and systems analysis.
Application
Retrofitting of machines through technology renewal and/or discontinuation in any industry
Conclusion
Appropriate networking modernizes machines and data collection within the existing production environment.
Case 5: Connection for new machines

Before
You are about to change your machine connection from classic, familiar methods to current technologies and standards, but you don't want to miss an opportunity to look at alternative solutions and innovations.
After
A true system approach to network consulting brings more understanding of the options available in the different technologies/platforms including adding functions like data analysis and troubleshooting.
Benefit
With the correct technology, machines become modular making them easily duplicated and lowering In-house commissioning times.
Application
New machines can be built for all areas.
Conclusion
Cost reduction, more know-how in machine connection and higher, own solution efficiency – everything is possible.
Case 6: Central and decentralized networking (IP20 or IP67)

Before
The standard is to integrate IP20 switches in the control cabinet. If a decentralized version is required, an external control cabinet is equipped with an IP20 switch.
After
Decentralized switches with an appropriate IP rating are installed at the process bringing the network and IO peripherals to the field. This significantly reduces space, wiring and installation costs.
Benefit
The streamlining of the Industrial Ethernet infrastructure and the associated reduction of wiring effort and costs results brings overall savings to the installation. Topologies become simpler and clearer and allow for faster commissioning times.
Application
Logistics, production lines, large plants (packaging, paint shops, cranes), automated guided vehicles, classical mechanical engineering
Conclusion
Decentralized, cost-optimized machine connections as required.
Download the white paper
We are working on the technologies of tomorrow and would like to share our thoughts on TSN with you. Just fill out the form and you will get access to the download area.