February 25, 2021
Network Technology - Managed Switches, Unmanaged Switches & M12 Connectors
Unmanaged switches reliably cover basic functions and offer good value for money, while versions like the PROFINET managed switch offer a maximum range of functions. Here's our quick guide to choosing switches. Download the product brochure or access technical information via the links below.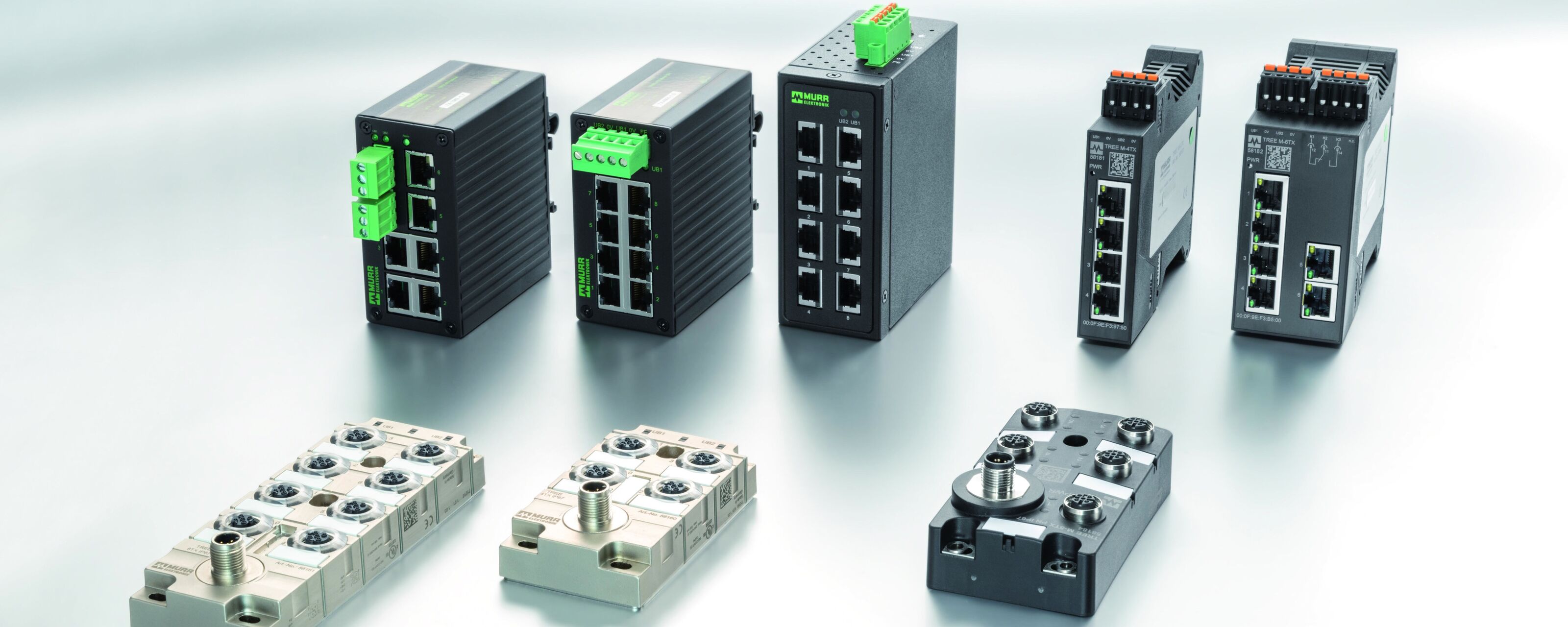 Managed or unmanaged? What is the right switch for my application?
Unmanaged switches, as Xelity or Xenterra, are typically the most cost-effective way of connecting Ethernet devices in small and/or local networks. These switches basically make sure that Ethernet data flows without collisions. There are applications with special requirements that may demand a managed switch, as Murrelektronik's Tree Lite- and Full-managed switches.
Managed switches increase availability of critical applications thanks to functionalities such as ring topology management, port mirroring for network troubleshooting and NAT for accessing the system from an external network. These devices also allow packet prioritization making sure time sensitive data gets higher priority on the network. Last but not least, managed switches can be controlled/monitored by PLCs through an Ethernet/IP or Profinet connection
What are the benefits of Power Over Ethernet Switches?
PoE switches, such as Murrelektronik's Tree PoE, are a great way of reducing cabling on an installation with power and data in one cable. PoE switches eliminate the need for two cables, one for communication and one for power, per Ethernet device. Thanks to their step-up converter, Tree PoE switches can power up 48 VDC cameras, scanners, IP phones and many other PoE devices with a 12/24V DC power supply. Tree's PoE booster accommodates up to 120W (30W per port) of load on one single switch. Also, another advantage is that our TREE PoE switches use standard 8-pole RJ45 cables.
What do I need to take in consideration when planning a network?
The challenges faced by Electrical Design Teams can't be underestimated. There are many variables to be considered department during a machine's concept phase. Factors like the number of Ethernet devices, network load, response time and infrastructure are just a few things to taken in consideration. Murrelektronik switches (Xelity, Xenterra and Tree unmanaged and managed, IP20 or IP67 rated) can be combined to provide a powerful and affordable solution that eliminates bottlenecks and increases the performance of any Ethernet based application.
How can switches help simplify wiring and reduce assembly time?
Switches are a requirement to add flexibility to Ethernet based systems, but no one said they necessarily need to be mounted inside enclosures. IP67 rated switches, like Murrelektronik's Tree67, are a great option to save space inside enclosures, reduce costs with wiring, and improve commissioning and troubleshooting time. These switches, that can be mounted up to 100m away from the main cabinet, help optimize cable routing without compromising network flexibility. Combined with a vast range of Murrelektronik's M8, D- or X-code Industrial Ethernet cables, IP67 switches are the perfect solution to make any Ethernet network Plug-n-Play.What are the benefits of Power Over Ethernet Switches?
Downloads
The latest news from our company